Apartments & Rooms for your Holidays in Tuscany
The building is at the main entrance of  Rapolano Terme.
The village is well known for its hot springs and ancient travertine quarries. Visitors can walk in a few minutes, the historic center of Rapolano and thermal pools.
The guest finds here a friendly and elegant ambient, with all the comforts, and he should choose between elegant apartments for two, four or six people, but also between a nice and independent cottage and elegant roomss with private terrace.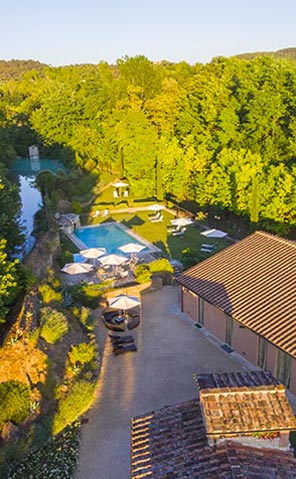 Molino della Lodola
Apartments and Rooms in Tuscany near Siena
We are waiting for you at the Molino della Lodola!
The Breakfast Room
GThe guests can enjoy the typical Tuscan breakfast, inside the magnificent salon that is situated in the same building of the roomss. The large windows, that overlook the garden, offers a very beautiful landscape. This large and elegant room, with the near pool can offer also a perfect setting ideated also to receive big events and important ceremonies.
The Swimming Pool
The pool is the pride of all the building. Large, spacious, cascading and totally made of travertine, the ancient calcareous stone extracted all around the Rapolano's village. Near the pool the Temperone's river runs and once again Temperone is the star of this enchanting natural place.